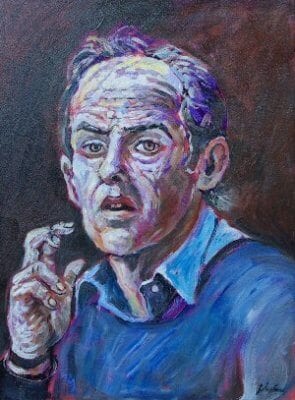 John Johnstone was born in our home town of Forfar in 1941. He studied at Duncan of Jordanstone College of Art 1959-64 in Dundee, and was highly commended. He received a major travelling scholarship to visit European Capitals and was a part time lecturer at Duncan of Jordanstone College of Art for many years. He is a regular exhibitor at the Royal Scottish Academy and the Scottish Society of Artists and is a professional member of the Scottish Society of Artists and Scottish Visual Arts.
"My works are a visual diary of the people, places and things that populate my life and mind.  My paintings seem to be expressing something, either serious or amusing about life. They depict people acting out minor dramas. Gesture, composition, characterisation and setting are important. There is an element of gravity in them, but the humorous side probably eclipses that aspect."
Very much a story teller John Johnstone enjoys dreaming, thinking and observing. He observed everyday life events and creates his paintings. Quirky and surreal they illustrate a social narrative. He has been drawing compulsively since childhood developing a sound knowledge of the anatomy of the human body – this allows him the freedom to distort his figures to add an element of humour to his work.
View Johnstone's work and allow yourself the freedom to be absorbed, you can observe his work for hours and still find new elements you had not noticed before. His Etchings are almost like a comic strip as they tell so many stories. To understand you really need have to have a look. You can view his etchings here: https://www.canvasart.co.uk/product-category/artists/prints/john-johnstone/
Like us on facebook to be kept up to date with our instore and website promotions
https://www.facebook.com/canvasartgallery